Effective litigators don't just know the law. They know the courts. It's the fundamental philosophy that has guided this firm since day one.

With offices strategically located throughout Alabama and the I-10 Gulf Coast corridor from Gulfport, Mississippi to Tallahassee, Florida, and north to our Chattanooga, Tennessee office, Carr Allison offers the kind of confident legal representation that only comes from firsthand experience. We have accumulated decades of closely cultivated relationships at the local level, wherever our clients' interests lie.
MORE>
FIRM HIGHLIGHTS
Carr Allison's Chris Dorough named to Birmingham magazines Top Attorney list
Shareholder, Christopher E. Dorough was recently named to Birmingham magazine's "Top Attorneys 2015" list. Chris was recognized as one of the top lawyers in Birmingham for his work and achievement in the practice area of Insurance Defense.
Birmingham magazine conducted its sixth-annual peer reviewed survey this winter asking more than 4,000 local attorneys registered with the Birmingham Bar Association for their nominations for the area's top lawyers in 35 practice areas. Birmingham magazine staff members and the Birmingham Bar Association reviewed the results to vet both the voters and the winners. The attorneys listed represent the top five in each category.
Oliver visits Capitol Hill with Alabama Congressional Delegation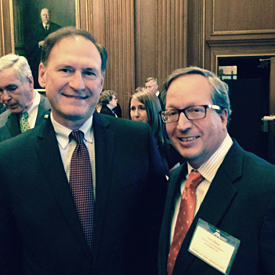 Thomas L. Oliver, II, founding shareholder in the Birmingham office of Carr Allison, recently traveled to Washington D.C. to meet with the Alabama Congressional Delegation on Capitol Hill to lobby for continued funding of indigent representation. During his trip, Tom also had the opportunity to meet with Associate Justice of the Supreme Court of the United States, Samuel Alito. Tom currently serves as President of the Alabama Law Foundation, the charitable arm of the Alabama State Bar.
The Alabama Law Foundation's prime objective is to make access to justice in Alabama a reality for all Alabama citizens. For many hard-working individuals and families, hiring a lawyer is well beyond their income level and a simple legal problem can become a crisis. Through the Alabama Law Foundation, Alabama lawyer's service and commitment to a just society are making a difference. To learn more about the organization, click here.
MORE NEWS>